佛州华人华侨联合会2018中国新年联欢会!邀你参加

尊敬的会员们、朋友们:
戌日耀吉瑞;狗年臻福祥。在这一年一度的新春佳节即将来临之际,CASEC华联理事会提前祝福各位春节快乐、狗年吉祥!
大家翘首以盼的CASEC华联(2018)春节活动将于2018年2月18日在Mizner Park Amphitheater 举行。承蒙社会各届的关心和支持,本次活动将以丰富多彩的内容和形式,面向华人和非华人社区传播博大精深的中华文化和艺术,扩大华人在社区的影响力,与社区更多交流融合。
值此之际,中外友人,合家团聚,共度佳节!
活动时间:2018年2月18日(星期日),3:30pm-9:30pm
活动内容:
(1) 游园会(3:30pm开始)。在风景优美的露天公园广场,有各式各类的排摊位(Booth),为您展示中华美食、文化、艺术、手工艺品、中华服饰,与您分享中医、针灸治疗及牙医类健康常识以及赞助商公司信息等等。您可以在游园的同时,品尝中华美食、选购心仪艺术品、欣赏书法字画等现场艺术表演。
(2) 迎新春晚会。CASEC春晚文艺演出将于6:30开始。届时将由本地的艺术家、文艺爱好者、德艺双馨的孩子们和特邀嘉宾节目为您呈现一台丰富多彩的文艺表演节目,与您度过愉快而难忘的夜晚。
(3) 舞龙舞狮表演。狮舞龙腾,吉祥如意。为争加节日气氛,我们特意邀请了舞龙队、舞狮队现场助兴。舞龙表演将在游园会期间。舞狮表演将在春晚舞台展现。好戏连台,不容错过。敬请期待。
活动地点和地址:Mizner Park Amphitheater
            590 Plaza Real, Boca Raton, FL 33432
活动费用:免费入场和观看文艺演出。
主办单位:CASEC佛州华人华侨联合会
协办单位:佛州福建同乡联合会和迈阿密孔子学院。
(我们诚挚地欢迎其他友好社团加盟协办。)
由于本次活动为免费入场,活动费用将寄托于社会各界赞助商和会员、理事赞助商的友好赞助。赞助商请与姚清传(561-212-8959),张学锋(305-608-9985)或者James Ou(302-397-4933)联系。
有意排摊位(Booth)的商家或文化艺术品单位请与下面人员之一联系:管昕(954-778-9322),贾捷(561-818-3773),韦鉴钦(786-564-3296),黎丽萍(954-305-9691),余学均(407-719-0423),James Ou(302-397-4933),甘育新(561-506-5563),王树栋(954-854-4042) ,钟仲凯(480-525-2691)。
文艺演出节目报名请与翟晓东(954-913-5377)和张冬(954-830-9033)联系。(具体要求另行通知。)
感谢您的参与!祝您新春愉快!狗年万事如意!
CASEC佛州华人华侨联合会敬上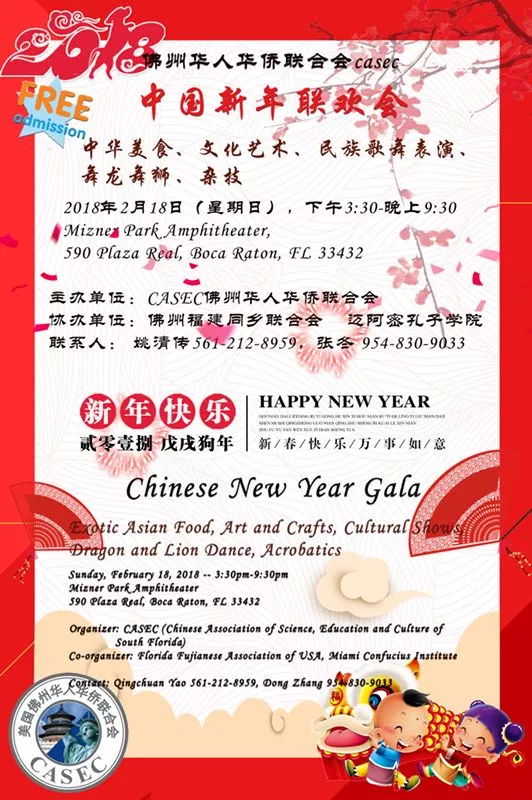 Invitation to the 2018 CASEC Chinese New Year Festival
Dear Members and Friends,
With canine auspice shining on the coming prosperity-promising new Year of the Dog, the Board of CASEC wishes everyone a happy Chinese New Year and an auspicious and prosperous Year of the Dog.
The CASEC 2018 Chinese New Year Festival that everyone has been looking forward to will take place on February 18, 2018 at the Mizner Park Amphitheater in Boca Raton. With love and support from our communities, rich in substance and diverse in format, the celebration is created to promote the great Chinese culture and arts to the people of Chinese and other heritages and extend the influence and deepen community involvement of Chinese Americans.
Friends of all ethnicities, come like a family, and celebrate together in this time of festivity! There will be a variety of fantastic performances. You should not miss them.  We are looking forward to your participation and attendance.
Time:     3:30pm – 9:30pm, Sunday, February 18, 2018.
Activities:
(1) Afternoon Activities (starting at 3:30pm): will be at the beautiful and scenic Mizner Park. There will be booths showcasing a festive variety of Chinese foods, culture, arts and crafts, and apparels, sharing knowledges in Chinese medicine, acupuncture, and dental health, as well as presenting information from our sponsors. While you are enjoying the activities, you will have the opportunities to taste Chinese food, purchase arts and crafts of your liking, appreciate calligraphy and Chinese paintings, and enjoy live performances.
(2) The CASEC Evening Gala (6:30pm – 9:30pm): the New Year Celebration is comprised of rich and diverse shows featuring local artists, performing arts enthusiasts, talented and lovely children, and special guests, will be presented to accompany you to spend the joyous and memorable evening.
(3) Dragon and lion dances. Dancing lions and prancing dragons will bring you fortune and prosperity. To enrich the holiday spirits, special invitations have been extended to dragon and lion dance specialists to bring more excitement to the festival. Dragon dances will be performed during activities. Lion dances will be performed on the stage.
Place:Mizner Park Amphitheater, 590 Plaza Real, Boca Raton, FL 33432
Admission:Free (include activities and show)
Sponsor:CASEC – Chinese Association of Science, Education, and Culture
Co-Sponsors:Florida Fujianese Association of USA and Confucius Institute at Miami Dade College
         (We sincerely welcome other organizations to cosponsor this event with us)


Because this event will be free of charge, we rely on community sponsors, members, and directors of the board for contributions. Prospective sponsor may contact Qingchuan Yao (561-212-8959), James Zhang (305-608-9985), or James Ou (302-397-4933).
Booth vendors of merchandise or arts and crafts please contact one of the names listed below: Sam Guan (954-778-9322), Jennifer Jia (561-818-3773), Jianqin Wei (786-564-3296), Liping Li (954-305-9691), Xuejun Yu (407-719-0423), James Ou (302-397-4933), Yuxin Gan (561-506-5563), Shudong Wang (954-854-4042), or Kai Zhong (480-525-2691).
Prospective performers please contact Xiaodong Zhai (954-913-5377) and Dong Zhang (954-830-9033). (Detailed requirements will be announced separately)
Thanks for your participation. Happy Chinese New Year and All the best to you in the Year of the Dog!
Presented by CASEC – Chinese Association of Science, Education, and Culture